Round Beach Towel Wholesale Afshar Brand
Round beach towel wholesale company and our items are absorbent, fast drying, sand repellent and odorless. They are 100% cotton roundie beach fouta towels, bath and commercial hotel spa towels. Because of Turkish ethnic bohemian mandala tapestry shamanic designs.Also, peshtemals used as a yoga mat, body wrap, scarf, home decor, throw, cover up.Since we do not sell our items online.Therefore we do not publish all our designs and colors. As a peshtemal wholesaler.However, we can send a catalog or client can visit us. Since our showroom/office is located in San Diego.We are able to show our display of Turkish peshtemals towels in person.Which benefits our customers.Beacuse they get to see and feel more than 200 different designs and colors of the products.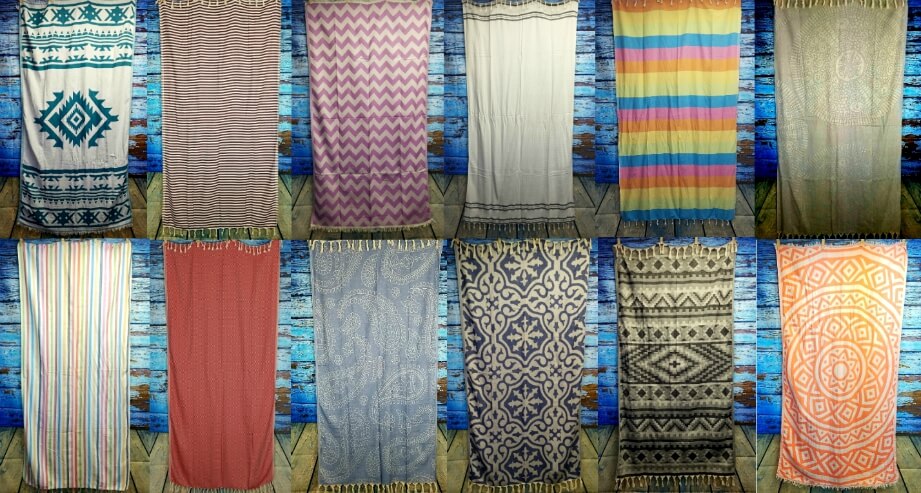 JUST A FEW SAMPLES OF OUR ROUND BEACH TOWEL WHOLESALE COLLECTION
The Afshar brand towels sizes vary However, the classic shapes are approximately 35×75 inches and roundies 59 inches diameter.The rectangle shapes weight around 10 oz. Since we are a peshtemal wholesaler we want to protect our patterns. Therefore We do not put all our designs here.Atay Trade collection offers more than 285 different colors and designs.Please contact us to see the whole selection of Turkish towels. Please make sure the see all the 3 pages!
Info Special Custom Beach Towels Design Wholesale
Yes, we do offer special custom design on Turkish round beach towel wholesale items. MOQ on special orders required.
We encourage our clients to take advance of USA inventory. Because turn around time is quick and the items will be on the shelves in no time. The designs are also depending on the shape wheater it may be round roundie or traditional Turkish peshtemals shape. If interested in learning more about our round fouta sand repellent peshtemal towels designing side. Please contact us at any time. Most Turkish fouta towels are hand and machine mix weaved, However, we still follow the Traditional Turkish way to make them. Therefore the patterns have to be compatible with weaving machine in order to bring beautiful design and color combo.
By Atay Trade Turkish Peshtemal Towels Wholesale Company San Diego California.