What is a Turkish towel? Absorbent beach colored bath towels.Made of terry thin Turkish cotton.You might know them as hammam peshtemal towels. The hot bath spas used them for centuries.Peshtemals also used as decorative purposes in bathrooms.
Decorate Your Bathroom With Peshtemals
Turkish Bath Towels are great companions.When it comes to decorating your bathroom.Since its versatile usage and absorbent cotton material makes a number one choice for many people.In addition to that, They can be used a blanket, sand beach blanket towel and tapestry.If some point new decor idea needed, I think peshtemals would be a perfect option in that case.The designs such as mandala, bohemian or traditional Turkish allow you to be creative.Therefore it makes a popular item.The Turkish spas will always carry only peshtemals. All fouta towels made with 100% cotton. As a result, material is durable odorless and sand repellent.However, you can use them on beach and not to worry about dealing with send later on.We all know that sand can be quite frustrating after a visit the beach. And may or may not drive you mental 🙂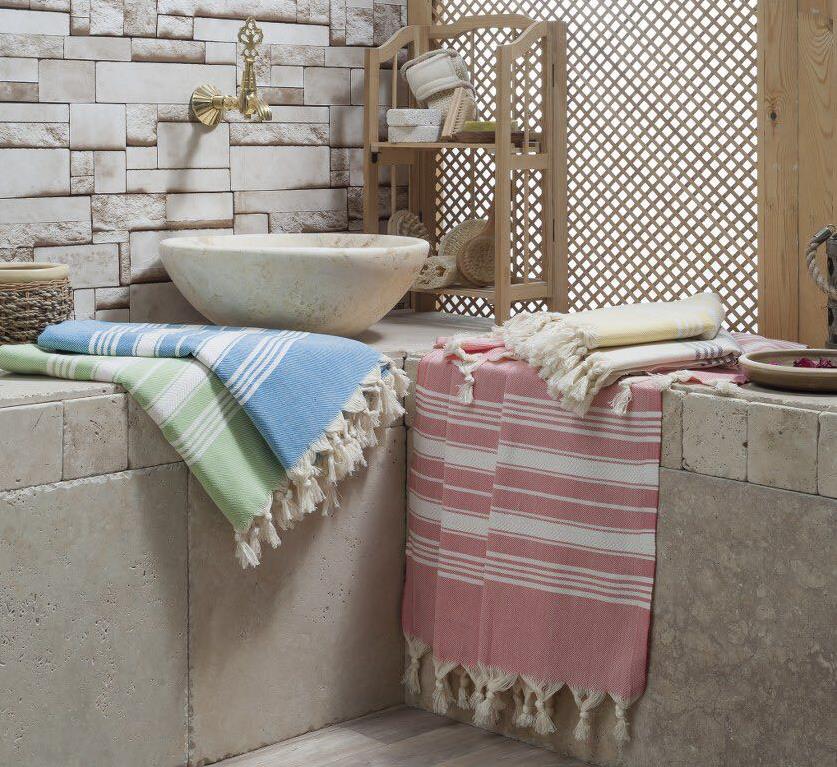 What Are Turkish Bath Towels?
Peshtemal are not your average terry cloth. Also, peshtemal (sometimes peshtemal is also spelled pestemal or peshtamal) is also called a fouta or hamman towel. However, Peshtemals are large, flat and velvety soft. Inspired by the bath towels used in legendary Turkish spas, these tightly woven creations are extremely strong and durable, and feature a stylish handcrafted fringe that makes them chic as well as practical.
Because peshtemal towels are flat-woven, they're extremely light and take up very little space, making them the perfect travel companion. Peshtemals are the ideal take-along for your next vacation, you can roll them up and they pack beautifully.
Peshtemal towels also look fabulous draped over the shoulders on a cool summer evening. And they double up nicely as home textiles like table runners, sofa throws and even impromptu picnic blankets.
By Atay Trade www.atwholesaletowels.com